Categories
5 Vintage Stamp Paper Paintings That Can Take Your Space from Drab to Fab
Posted on November 24th, 2019 02:50 PM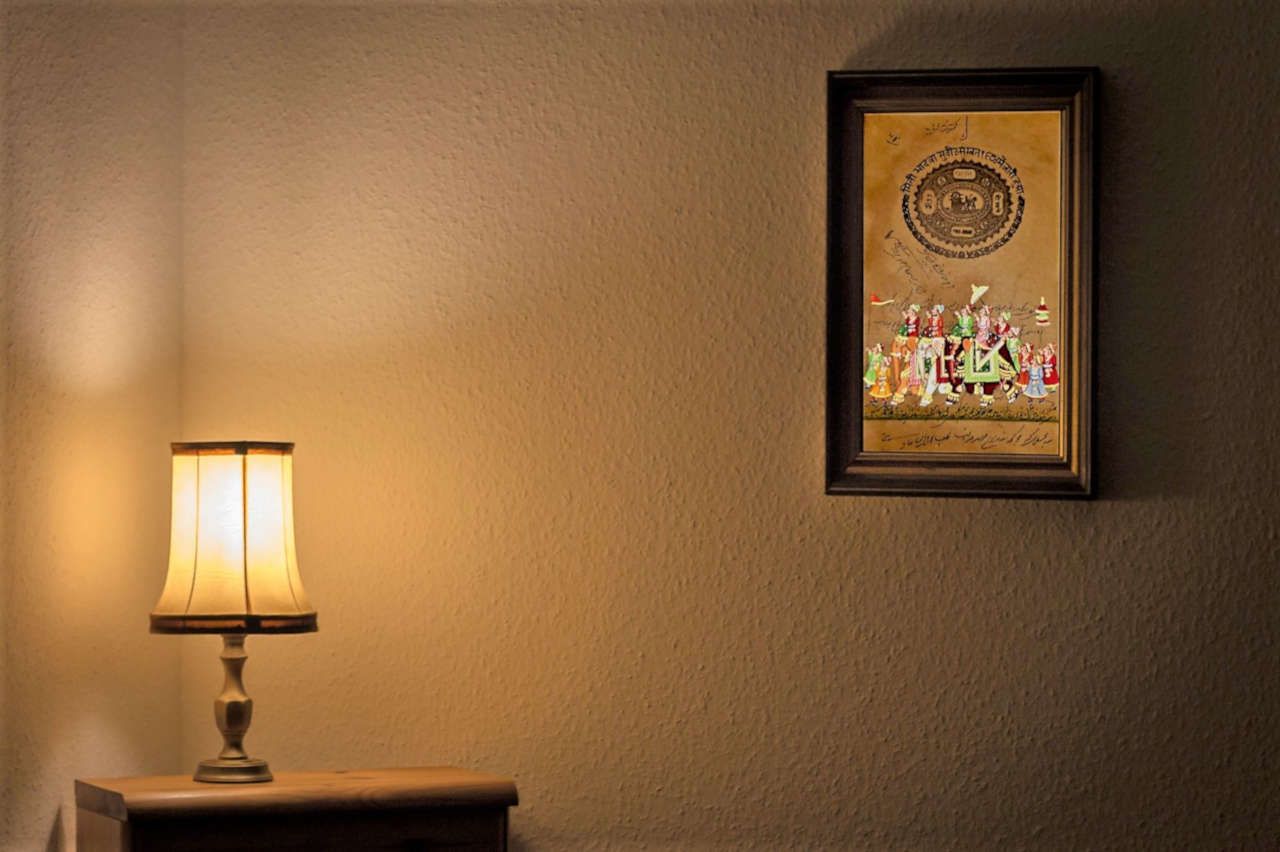 Wall decor is our personal favourite when it comes to adding some allure to homes. It doesn't occupy any floor space, is easy to maintain, and never goes out of style. A good piece of wall art can really tie the look of your home together and make it more welcoming. We have curated a list of 5 amazingly beautiful stamp paper paintings to spark your inspiration. The vintage nature of stamp paper paintings has a unique appeal to it, making it very sought after in Rajasthan and beyond. The art of Rajasthani stamp paper paintings requires refined technique, and each of these paintings has been crafted by highly skilled artists. This form of painting is the epitome of precision and will enhance the grace of any place you choose to adorn with it.
1. Royal Elephant Stamp Paper Painting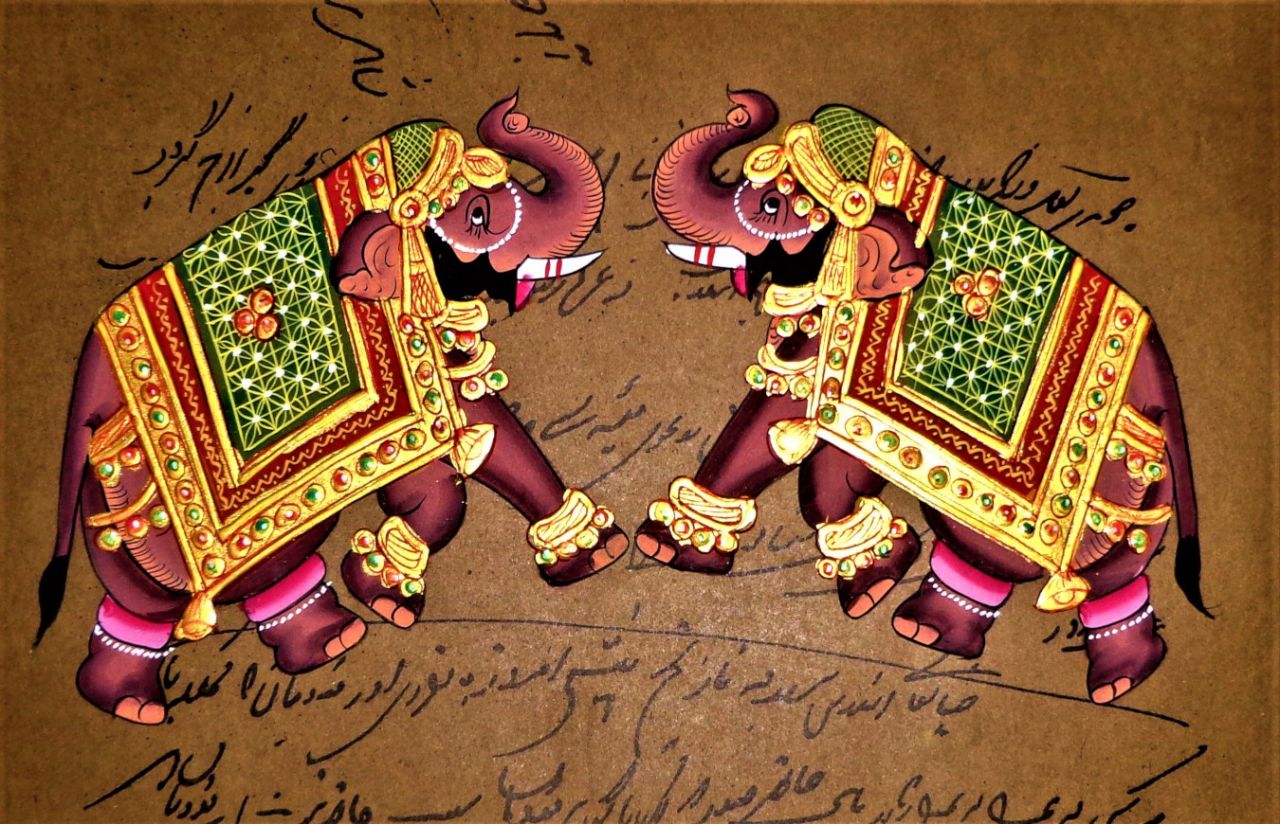 Travel back in time to the era of unsubdued royalty with this skilfully designed piece of art. Elephants commonly symbolise grandeur and served as guardians to the royal back in the day. This painting features two majestic elephants, both of whom have been elaborated decorated with various ornaments and drapes. The green, gold, and red ornamentation contrasts beautifully with the hues and makes the painting very eye catching. The coarse stamp paper that has been used for this painting gives it a very earthy texture, which adds to the medieval character. Gold is synonymous with all things regal, and the use of gold finish in this painting adds a touch of regality to your abode as well. We think that it is an ideal piece for a doorway as the elephants bring to the mind a feeling of a 'royal welcome'.
2.
Tree Of Life Stamp Paper Painting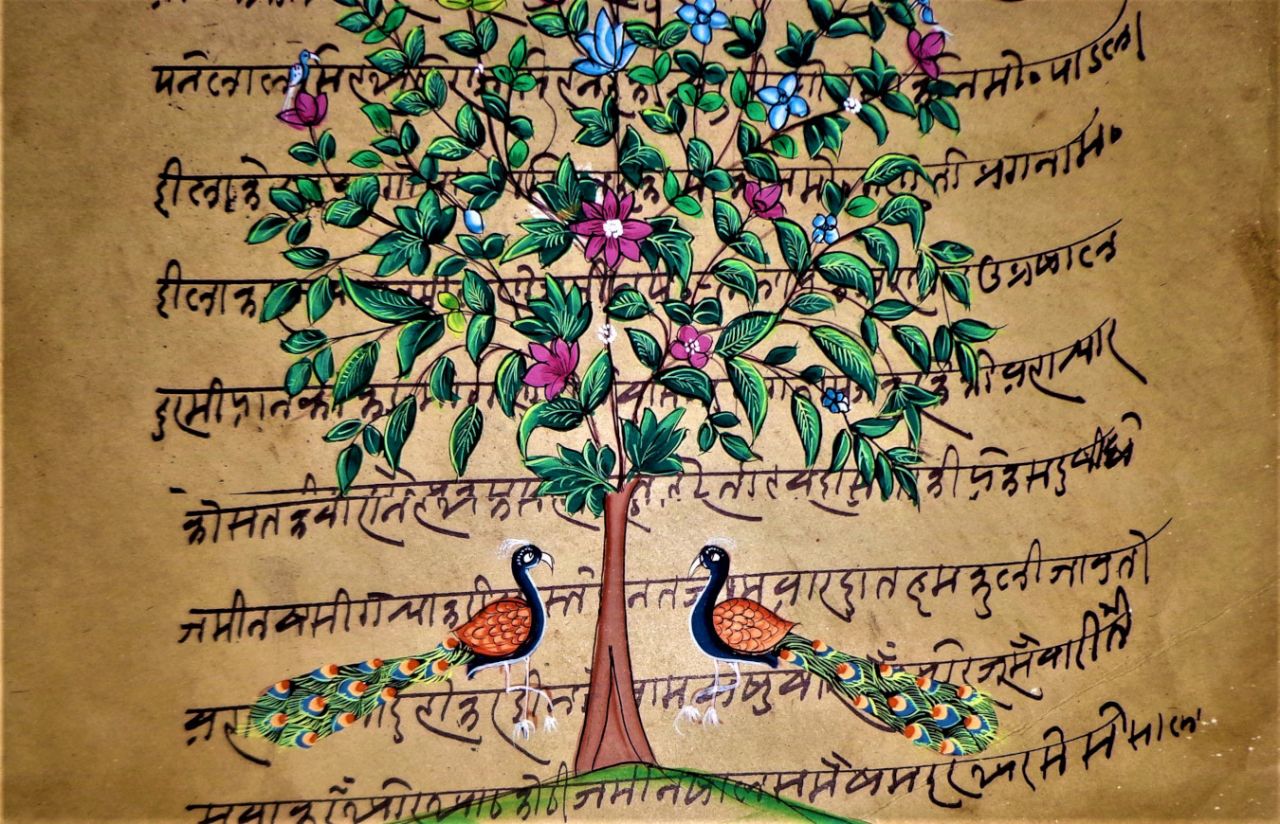 If you're an admirer of nature or floral designs, this painting is a must have for your home. It depicts a lush tree with blooming flowers and peacock birds. This beautiful tree painting is a sight to behold and represents prosperity and affluence, showering blessings on everyone that admires it. Peacocks are symbols of beauty and add a touch of harmony and tranquility. The use of vibrant colours like pink, blue, teal and orange on the brown coloured stamp paper gives this piece of art a bright look, and immediately makes it the centre of attention. This painting is very suitable for any corner of your home as it does not need to be matched with a certain colour scheme, and it will light up any wall you choose to decorate with this painting.
3. Radha Krishna Stamp Paper Painting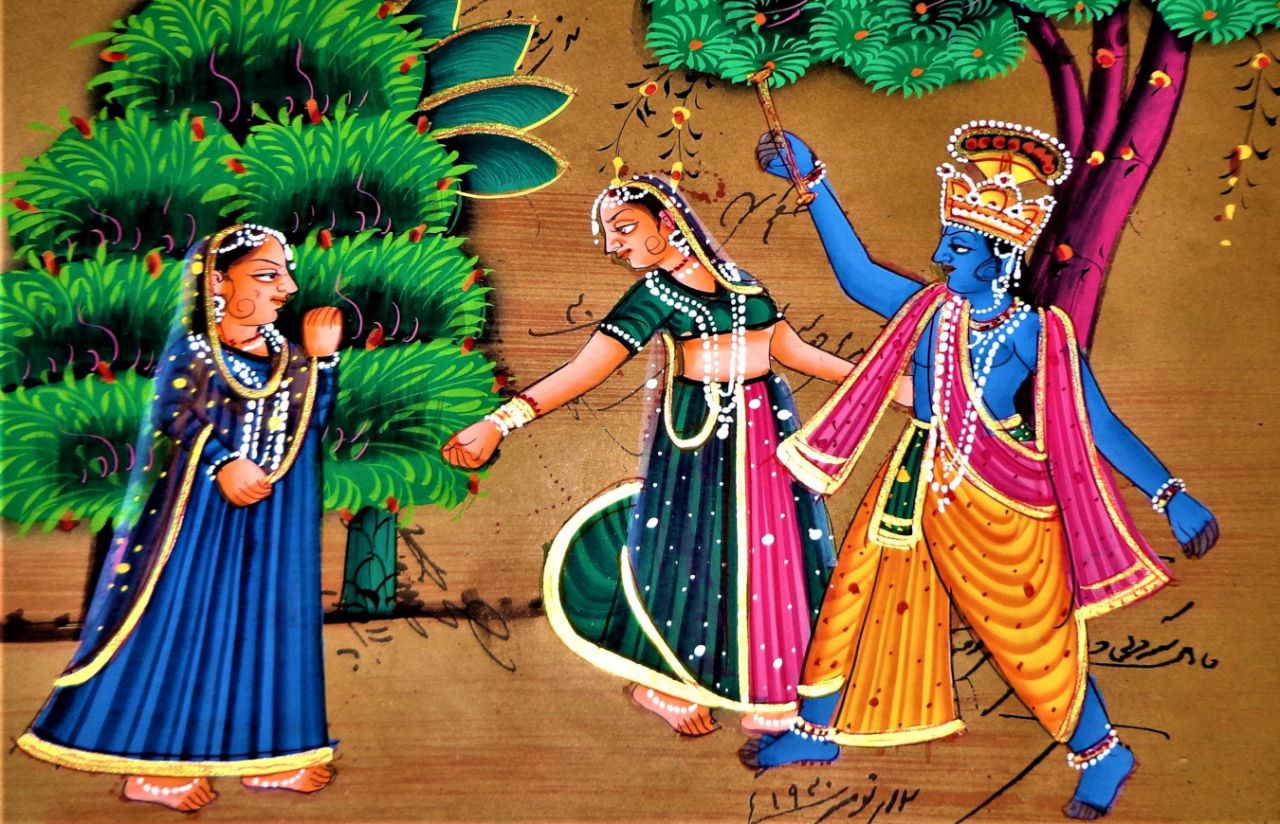 Who hasn't been mystified with the immensely pure bond of love between Radha and Krishna? The mythical tale of Radha and Krishna is more enchanting than any modern day love story. You can sprinkle a hint of this magical legend in your own home with our Radha Krishna stamp paper painting. It depicts the lovers engaged in rasleela. The bright blues immediately draw attention and the vivid colours juxtapositioned against the earthy background give it a very striking look. Great attention to detail can be seen in the garments and jewelry, which reflects that this piece was crafted with perfection in mind. In the background, lush fruit bearing trees can be seen, painted in signature Rajasthani style, which ties the whole painting together and immediately transport the viewer to the scenic beauty of this artwork.
4. Royal Rajputana Stamp Paper Painting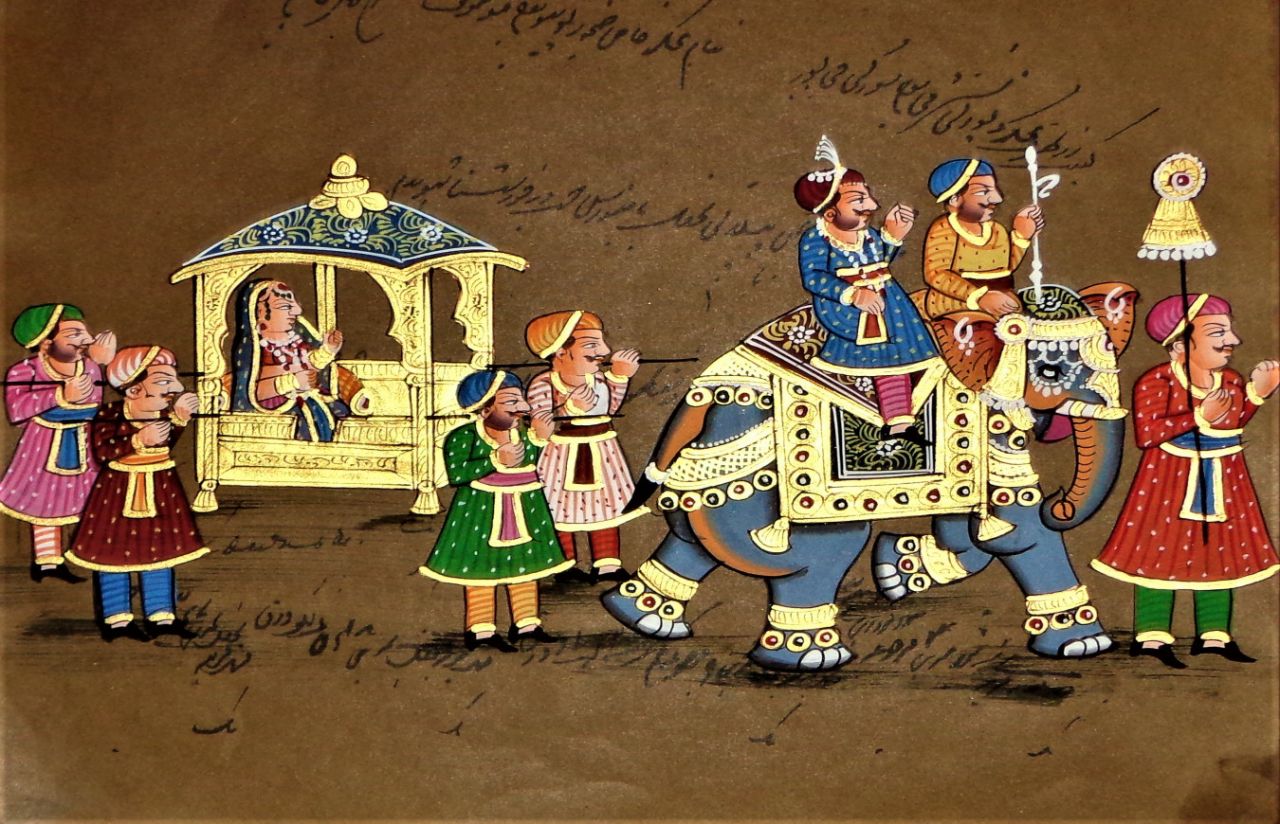 Let your imagination wander off to an era bygone with this beautiful wall art depicting a scene from the Rajputana Era. Royalty can be seen here embarking on a journey on their respective royal animals- elephants, camels and horses. Immense attention to intricacy can be clearly observed, and each element has been drawn to perfection. All the animals have been ornamented in elaborate fashion, complete with pearls, jewels, and drapes. The tusk of the elephant has been adorned with a gold ornament, which lends a feel of undiluted grandeur to the painting. The royalty has been ornately decorated with pearls and beads. Each rider has a brilliantly coloured outfit and can be seen with a delicate pink rose in his hand, a flower that has always been adored by the regal.
5. Royal Medieval Stamp Paper Painting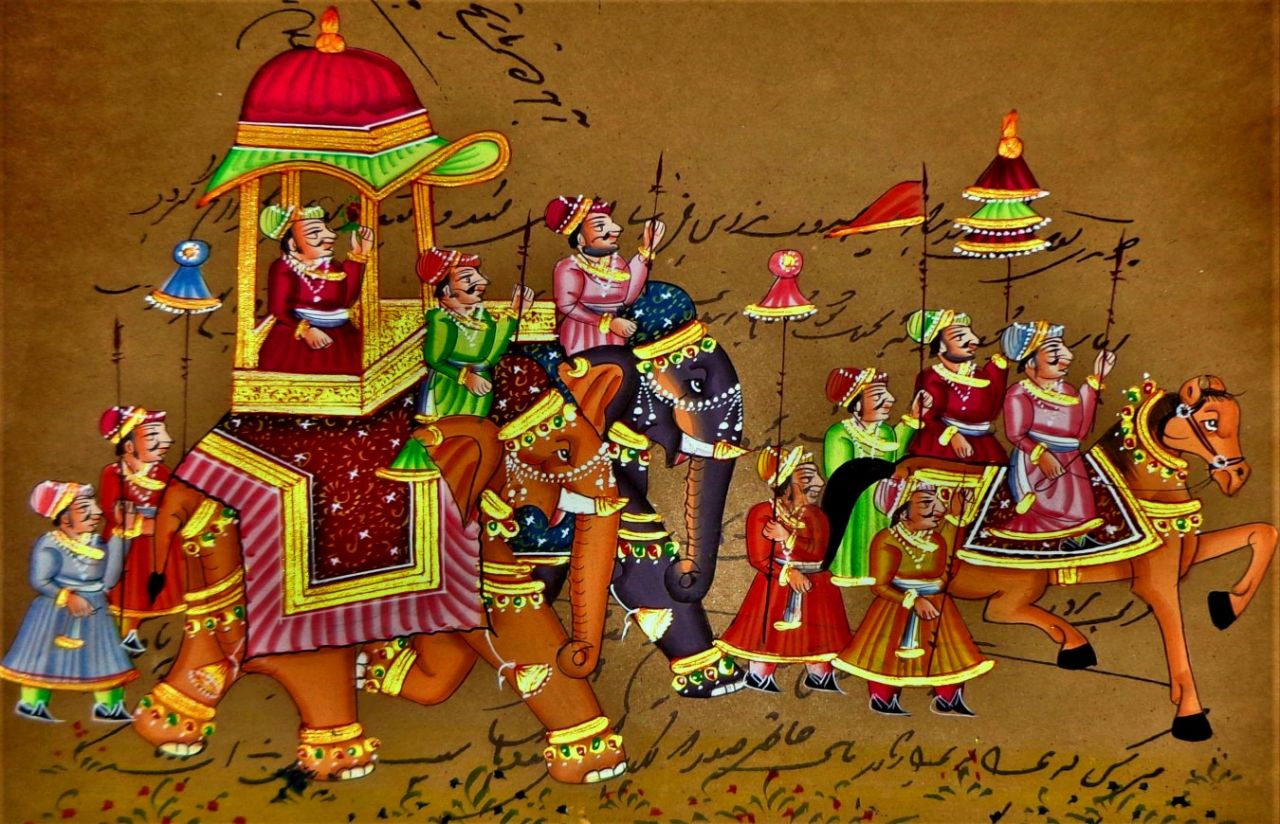 Bring a slice of magnificent Rajasthani heritage and culture with this vintage stamp paper painting from Rajasthan. An elaborate depiction, it shows a royal procession on its way to what seems like a celebration. The elephants have been ornamented in gold, pearls, and colourful drapes which symbolises grandeur. The royal men can be seen sporting vividly coloured outfits and pearl jewelry. The king and queen are seated on the most ornately decorated elephant, and the king has his arm around his lady in a romantic gesture. The green grass at the bottom represents prosperity. Small details like flowers and chhatri portray harmony. This painting is the physical embodiment of jubilation, and will help create a similar atmosphere in the space it is placed in. We think that it is a great piece for your living room or bedroom decor.