At AVIVANA, exemplary craftsmanship and complete customization are two core principles that form our design philosophy. Our industrial manufacturing capacity and a wide sourcing network allows us to house numerous collections of art, décor and furniture; ideal for an array of interior décor themes. Be it a minimalist Colonial accent chair or an intricate Art-Deco mantle mirror, our design process begins with visualizing a product that delivers both form & function while lending an aesthetic appeal; culminating into creations imbibing contemporary comfort.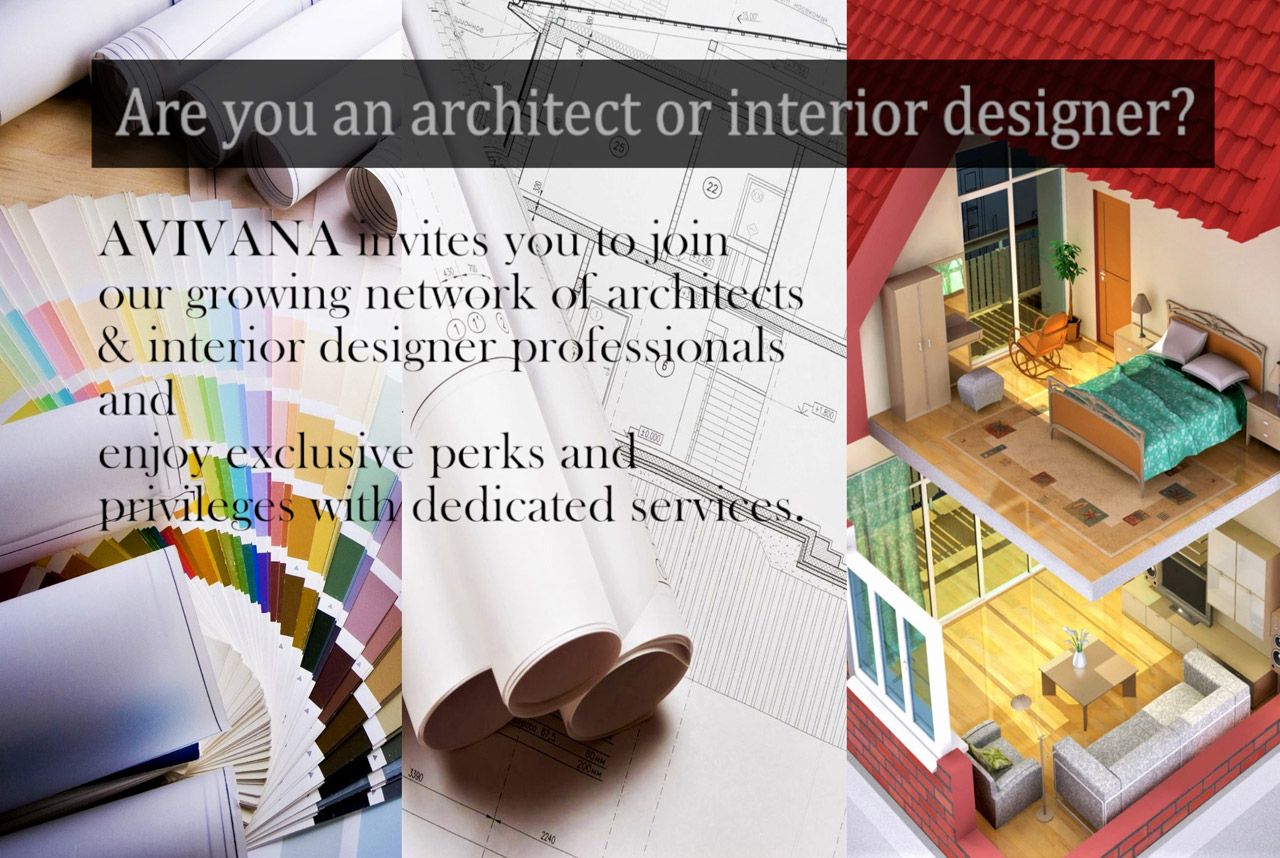 Register with us to take advantage of following benefits:
1. TRADE ACCOUNT PRIVILEGES
As an extension to standard registered accounts, we offer exclusive privileges to the architects and designer professionals when ordering from AVIVANA. A Trade Account will help you avail bulk discounts and flexible rates without minimum-order-quantity/minimum-order-value(MOQ/MOV) limitations; and benefit from the reduced variable costs, increased margins, and a stable supply chain of products.
2. EXCLUSIVE PRODUCT PREVIEW
Be ahead of the competition by enjoying exclusive preview of all our new launches, latest collections and upcoming designs before they are updated online. Beyond a glance at the new collections, you also get an early access to the discount offers and introductory pricing scales to help you plan for showcasing your design portfolio to pertinent clients.
3. COMPLIMENTARY CATALOG ACCESS
Why use 3D illustrations when you can showcase the original product from multiple angles and interior visuals? Avail your free access to AVIVANA's image library and cater your clients with high resolution images and lifestyle stock shots of all the latest furniture and decor collections. In addition, we also offer on-demand services for curating catalogs for specific products or collections.
4. BESPOKE CUSTOMIZATION SERVICES
Our in-house customization service will give you the advantage of shuffling through a wide range of materials and finishes to satisfy specific client needs. Be it intricately carved furniture with rich craftsmanship or a minimalist furniture with innovative textures and finishes, we offer absolute personalization through all the variants across décor and furniture.
5. SAMPLE PRODUCT DEVELOPMENT
Beyond the customization of the existent inventory, our skilled team of furniture and product designers develops entirely new products that effortlessly fit the space they're built for. Designed to the very specifics shared by your detailed feedback, we create bespoke products and also offer samples to ensure client's complete trust in the product.
6. GRATIS ART ADVISORY
From traditional Indian art to Neo abstracts, at AVIVANA we pride ourselves on having an exclusive varied art gallery. Art, as a standalone or a modicum of décor, has always been a sought-after interior luxury. We offer complimentary art advisory service to let you effortlessly select artworks to go with your interior décor themes and enhance the visual appeal of the ambience.
---
To know more, please share your business information and details & we will connect with you to initiate the on-boarding process.